Written in Cannes, Filmfestival 2023
I said, No, I prefer taking the stairs.
I once got stuck in an elevator as a child. Lights out. Darkness. My personal trauma. But I didn't want to bother these three men, nicely dressed in tuxedo and bow-tie.
So I went down the stairs, but the three didn't. Unfortunately, the doors closed on them. That was the last mechanical thing that happened.
Then nothing more.
I don't want to say: See, I told you so.
I just have this uneasiness in elevators. I don't want to confront my fear either, because healing a trauma can trigger something new, I guess. Not every trauma needs to be healed. And taking the stairs is healthy.
The three people stuck in the elevator were film producers. They missed their film premiere. They were trapped in the elevator for three hours until it was finally fixed again.
In Cannes it is all about photos. Here's my instagram Link: https://www.instagram.com/p/CszCDo-Nj3e/
But here is my favorite: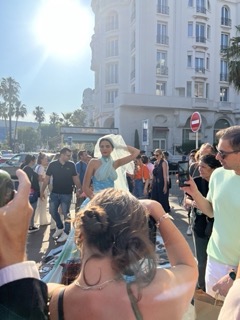 Someone always gets filmed somewhere - constantly. But even the photographers don't know the name of these beautiful models 

Photo: Myself 
It has nothing to do with my little elevator story, but the title: "Trauma" is one of my favorite books by British Author Patrick Mc Grath, a 2008 novel centered on post-traumatic stress disorder cases as narrated by an American psychiatrist. Patrick Mc Grath´s "literary method can be characterized as contemporary Gothic with dark psychic energies heating up and then exploding in dramatically moody settings" (New York Times book review). https://www.nytimes.com/2008/04/13/books/review/Birkerts-t.html
" Sam was silent. We stared out across the water and the long Island City Warehouse. It was summertime. The day was still, date drowsy water sparkling in the sunlight. A boat came down the river. The silence continued, one minute, two. Silence is never innocent in psychiatrists office. "
By the way: The best way to heal my little trauma are these kinds of videos https://www.youtube.com/watch?v=ChqBxPDJGbM